Hypnosis effective in the treatment of irritable bowels



NI Wire, Tue, 3 Apr 2012
A new study has revealed that Hypnosis can be used as a highly effective tool for the treatment of irritable bowel syndrome (IBS), diagnosed by abdominal pain, abdominal distension and bloating.
Dieting around the time of conception can increase obesity and diabetes risk of babies



NI Wire, Mon, 2 Apr 2012
A recent study has revealed that twins and babies of mothers, who diet during the time of conception and during the early stage of pregnancy, may be more susceptible to obesity and type-2 diabetes throughout their entire life.
Resting can recover the damage to cardiac cells



NI Wire, Mon, 2 Apr 2012
The research was carried in rats at Imperial College London showed that the effect of heart failure on the cardiac muscles is not permanent as people generally think. The findings of the research could help the scientists to discover new treatment strategies.
More than 50 percent cancers can be prevented



NI Wire, Mon, 2 Apr 2012
A recent study revealed that more than of all cancer is preventable. The only thing needed is to proper knowledge of information to the society to act upon.
Indians should stop excessive consumption of junk food, says diet experts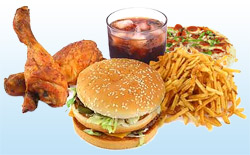 NI Wire, Mon, 2 Apr 2012
According to the diet experts, the habit of consuming junk food among Indian is increasing day by day and have warned that this could lead to severe health conditions.
More Stories