India's Anand starts favourite for World championship, seeded top in the tournament
New Delhi, Thu, 13 Sep 2007
NI Wire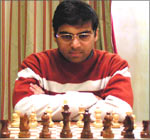 Sep 13: India's Vishwanathan Anand gets top billing and surely a favourite among eight World's best competitors, who will be in the fray to vie for top honour, in the World Chess championship which commences today in Mexico.
World number one Anand will have to fight it out against best players of the World to regain his title, which he won in 2001 at Tehran as well as his top spot in FIDE rankings.
It won't be an easy road for Anand, as he will be getting tough competition from second seed and defending champion Vladimir Kraminik of Russia apart from others, who will keep no stone unturned to retain his title and to clinch 'Numero Uno' position in the World.
This will be Anand's first major event in Classical chess after he became the top ranked player in the world in ELO ratings. The only thing which hampers Anand's title hopes could be the format of the tournament as he is much sharper and better in the rapid chess format than at classical chess.
The tournament that goes on till September 30 will offer prize money of $1.3 million. The championship will be played on double round robin basis under classical chess rules and all the games could last up to seven hours. There will be 14 games in all and the new world champion will be crowned based on the number of points, he scored from these outings.
Former World Junior champion Armenian Levon Aroniancan could be the dark horse of the championship and can give hard time to any of the title aspirants. He is also expected to be among the contenders for the world title, Aronian, has been quite impressive in the recent past and is amongst the few players who have beaten Anand in classical chess recently.