Maninder Singh lacerates his wrists; out of danger now
New Delhi, Sat, 09 Jun 2007
Nadeem Bhat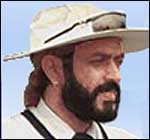 June 09: Former Indian cricketer, Maninder Singh, was found in a pool of blood after slashing his wrists in a suicide attempt last night. He has been admitted to Shanti Mukund hospital in East Delhi on Friday night.
The ace striker and spin bowler, who represented the Indian cricket team in international cricket has been having tough times following his arrest after recovering drugs from his apartment.
Officials from the hospital revealed that he was in emergency but no clear details were provided.
According to sources the mishap occurred when Singh had a verbal crossing with his wife. It is said that Singh, as he had consumed liquor, was under the influence of alcohol.
However Singh's friend denied these reports and concluded it as a mere accident and not a suicide attempt.
''This is an accident, not a suicide case. He has been suffering from depression for sometime. He slipped and fell on glass and ended up with slashed wrists. One hand is damaged badly. We brought him to the hospital and got him admitted. He has bled quite a lot,'' he said.
The former cricketer turned commentator got into trouble when he was arrested, on May 22, near his Preet Vihar residence in East Delhi, with a possession of around 1.5 grams of cocaine.
However he was released on bail on May 23.
Singh admitted that he has been on drugs for last two years now due to depressions over personal problems. He was booked under charges of possession of drugs and his confession that he does sniff the drug made the case stronger against him.
As per the latest information from hospital sources Singh is now out of danger. However he has not been allowed to meet people. There have been indications that he will be in a situation to talk to media later in the evening.
Maninder Singh was a left armed spinner who represented India in 35 Test matches and 59 one day internationals.