I won't play in Bangalore because of controversy: Sania
Hyderabad, Tue, 05 Feb 2008
NI Wire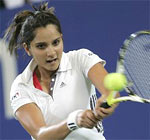 Indian tennis sensation and Asia's no 1 player told to media to not to play in next month's Bangalore open tournament to avoid herself from bitter controversies. "Every time I have played in India, there has been some kind of problem. So, I just thought it was better not to play this time," said Sania to the reporters. She was interacting to the media in her house at Hyderabad on Monday.
She has just returned from an average tour of Australian Open and Federation Cup in Pattaya, where she faced a new controversy of 'violating the tri-color.' Sania said to the reporters that she has taken this decision on the advice of her sports manager and her mixed-double partner Mahesh Bhupati.
"I am a normal 21-year-old tennis girl. It is impossible to get used to these pressures every time they keep coming back to you," she said this as she has found herself in several controversies from recent past few months.
"If she really decides not to play in Bangalore, it will be a great disappointment for the Sania's huge number of fans", said Vikash, a Sania's fan in the response of her announcement. Bangalore Open tournament is one of the biggest tennis tournaments in India containing a total of USD 6,00,000 in which US Williams sisters Venus and Serena Williams will be scheduled to play.
Sania has achieved several milestones for India as an Indian female player in tennis and from the beginning her professional tennis career, she had been the 'Girl Youth icon' of the country as she has gain the top fame after the Indian cricket players in India.
The beginning of this year for Sania can be 'said to be' an excellent opening year in terms of tennis as Sania reached to third round in the Australian Open (one among the four gland slam tournament in the globe) and this achievement has made her Asia's no 1 women tennis player of the year so far.
"It is a huge honour. Another milestone in my career and I consider the Asia No.1 ranking as one step closer to realising my dreams including becoming a top 10 player in the world," Sania cheered.
In other achievements, she was the first Indian lady to win an international tennis event. And had won the 'most prominent WTA tour's newcomer' award 2005. She is the only Indian woman to reach the fourth round of a grand slam event, so far.
But sadly, Sania has been in the limelight from recent past few years more than that her 's achievement.
Some controversies
In the latest controversy Sania has been alleged to 'dishonesting the India Tricolor flag' when she was posing for an advertisement in Mumbai. She was pictured sitting with her feet resting on a table next to an Indian flag. 'It was accidentally' as Sania responded over it but a private citizen has filed a complaint with a court in the central Indian city of Bhopal under the Prevention of Insult to the National Honour Act.
Congress youth star Priyanka Gandhi and Rahul Gandhi had also condemned her for 'insulting the tricolor' in Hyderabad and organised a protest against her. Her fault was that 'she posed for a shoe company with a guitar that was painted in the tricolour and her foot was next to the guitar,' as advertisers claimed.
"I don't want to comment on the tricolour case. But if I was not respectful of my country or if I did not love my country, I would not have played the Fed Cup on one leg," said Sania commenting over it.
Before this, another advertisement controversy emerged when he was involved in an advertisement shooting within Mecca mosque campus. The priest, locals and the conventionalists had condemned her for her's so-called 'unreligious' offence and later Sania had to apologized for it.
The Muslim conventionalists had continuous criticized her for her tennis 'court dress' and also for her bold explanations over it.
Some experts believes that 'media is also liable up to some extent for surrounding her among controversies by over hyping her more in off fields acts more than that in her on-filed performance.
"Media goes overboard at times but can't live with them and can't live without them," said Vishaal Uppal, Former Indian Davis Cupper over the importance of media and its role for any celebrities.
US sisters Venus Williams and Senera Williams along with Mahesh Bhupati will be the centres of attraction in Bangalore WTA open tournament scheduled to be held on March 03-09 this year.