Kumble seizes 600 wickets after gulping Andrew Symonds
New Delhi, Thu, 17 Jan 2008
NI Wire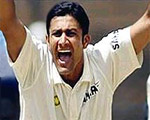 The evasive silence was there after the racial slur, Australian tumbled down one by one at Perth on the second day of third Test Match on Thursday.
The one who emerged tall was Indian Captain Anil Kumble who took his 600th wicket of Andrew Symonds, the ball he edged after hitting Dhoni's glove reached to Rahul Dravid's safe hands and then Asad Rauf taking few seconds raised his index finger which was an affirmation to his 600th wicket.
He stood amidst the cheering crowd and showing the true sportsmanship Adam Gilchrist at non-striking end reached out for Kumble to congratulate him. This for sure could have melted all the sour feelings due to last match controversy.
After this historic seized he became the only Indian and the third in the world to reach this high point by claiming 600 wickets in Test cricket. The other ahead of him is Sri Lanka's Muttiah Muralitharan and former Australian leg spinner Shane Warne at 734 and 708 wickets respectively.
This jubilant 37 year leg spinner has a remarkable record of taking all wickets in a Test innings after England's Jim Laker.
On the second day of Perth Test, India seems to have arrived with a punch, Australia could not survive and the inning came to an end in just 50 over. Australians managed to take 212 runs and to Kumble's delight the highest run getter was caught at his ball by Rahul Dravid at 66. Adam Gilchrist at 55, the second highest of Australian innings was caught by Dhoni in R P Singh's bowling.
R P Singh took four wickets, while Ishant Sharma, Irfan Pathan and Anil Kumble took two wickets each.
India has managed to take lead of 170 runs and is at 52 after losing Wasim Jaffar's wicket. The crucial third day happenings can give a clue of the result of third Test match. India is already 2-0 down in the series after losing the first two matches though the second one at Sydney was more in news due to controversies associated than wholesome cricket.