Blast rocks Quetta city in Pakistan, 63 killed
Islamabad, Sun, 17 Feb 2013
NI Wire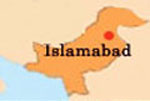 In a major shocking incident, at least 63 people were killed and over 180 injured in a sectarian attack in the Quetta city of Pakistan. It seems that that blast was fixed to target the minority Shia Muslims in the Quetta city of Balochistan province.
According to Police sources, The incident occurred when a remote-contolled bomb, targeting Hazara community of Shia Muslims, ripped through a market area located at the citys Karani road at about 5.30 p.m.
Sources claims that an estimated 800 kg to 1,000 kg of explosive materials were used in the blast, said Wazir Khan, deputy Inspector General of Quetta police. He added that the explosion happened in a town where a vast population of Hazara community of Shia Muslims resides.
The incident witnesses a major loss of lives and Balochistan's Governor Nawab Zulfikar Magsi has nnounced a daylong mourning for Sunday in the province which borders Afghanistan and Iran.
The number of dead could rise as several people among the injured were in critical condition, said hospital sources.
Meanwhile after the explosion, angry Shia protestors cordoned off the area following the blast and did not allow police, rescue teams and media to reach the site.
It is noted that Hazara community has been targeted dozens of times in Quetta over the last two years in which hundreds of innocent Shia Muslims lost their lives. The government, however, failed to provide adequate security to them, the protestors said.
President Asif Ali Zardari and Prime Minister Raja Pervez Ashraf strongly condemned the blast and directed the authorities concerned to provide best medical assistance to the injured, Radio Pakistan reported.
(With inputs from IANS)