London Olympic: All set for the eye-catching mega opening ceremony
London, Fri, 27 Jul 2012
NI Wire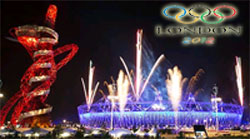 The much awaited opening ceremony of London Olympic is all set to start which is ready to attract viewers from all parts of the world. It is expected to entire world will be near their TV set to watch the about 3 hour show for which many world famous personalities from their fields have joins hands.
There should not be any doubt on the success of the opening ceremony of the London Olympic, as organizers have left no stone unturned to make it a milestone in the Olympic history. British director Danny Boyle, of Slumdog Millionaire fame, and another famed director Stephen Daldry have conceptualised the opening ceremony.
It is expected that about 80,000 audiences can view the opening ceremony from the stadium, which has been prepared specially for the games.
The ceremony, which has been shrouded in secrecy, has been named the "Isle of Wonder". The name has been inspired by William Shakespeare's "The Tempest."
It is noted that the organizers have been issued a video regarding the opening ceremony, which already have created curiosity among the people regarding the show. You can watch London Olympic opening ceremony video on newstrackindia.com.
The Big Ben, famous clock tower, will sound the start of the opening ceremony of the Games.
According to reports, Beatles' Paul McCartney will be performing with Bruce Springsteen at a pre-ceremony event. British actor Daniel Craig, best known for his role as James Bond, is also likely to feature in the opening ceremony.
Heavy security arrangement have been deployed for the Olympic Games including opening ceremony which is the mega events for the games.
British Prime Minister Prime Minister David Cameron has said that our main concern is to have secure games that are more important than all else.
There are police officers in the streets of London, in the skies and in the waters of the Thames, and they are backed by the best military personnel in the world.
In addition to the troops, another 18,000 private security workers will be stationed inside the Olympic complex during the entire event, from July 27 to Aug 12.
(With inputs from IANS)
LATEST IMAGES

MORE...
Social bookmark this page
Post comments: