Can Sourav's Warriors check Kevin and Daredevils sublime form?
New Delhi, Sat, 21 Apr 2012
NI Wire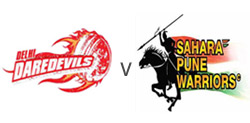 103 was the score Kevin made in his previous match and helped Delhi Daredevils mark a 5-wicket win over Deccan Chargers. This was the 4th win for Delhi Daredevils taking them to the top of the table.
On the other hand Pune Warriors start of this year IPL was superb, they won 3 out of their 4 matches but 2 consecutive losses have made them weary. Sourav's own performance has not been up to the mark, he had just made 85 runs in the 6 matches they have played.
Pune's bowlers will have a great task of restricting Delhi's in form batsmen and also there batsmen will have to take on Morkel and company who have been in deadly form in this year's IPL.
The 27th match of the IPL will be played between Delhi Daredevils and Pune Warriors in Feroz Shah Kotla Stadium from 8 pm onwards.
Delhi are at top of the table with 4 wins in their 5 matches while Pune is on 4th position with 3 wins and 3 losses. Warriors have lost their previous two while Daredevils have won their previous two encounters.
Delhi Daredevils Team:
V Sehwag, MC Juneja, VR Aaron, AB Agarkar, P Bisht, R Bist, GH Bodi, DAJ Bracewell, U Chand, AJ Finch, DPMD Jayawardene, GJ Maxwell, M Morkel, S Nadeem, Y Nagar, PT Naik, P Negi, NV Ojha, IK Pathan, KP Pietersen, KC Raval, AD Russell, AM Salvi, LRPL Taylor, RE van der Merwe, Y Venugopal Rao, Vikas Mishra, DA Warner, TP Yadav, UT Yadav, Zafir Patel
Pune Warriors Team:
SC Ganguly, ER Dwivedi, MJ Clarke, AB Dinda, CJ Ferguson, RV Gomez, Harpreet Singh, DS Jadhav, Kamran Khan, M Kartik, HH Khadiwale, B Kumar, NL McCullum, AP Majumdar, M Manhas, AD Mathews, MD Mishra, AG Murtaza, A Nehra, MK Pandey, WD Parnell, S Rana, JD Ryder, MN Samuels, R Sharma, GC Smith, SPD Smith, Tamim Iqbal, AC Thomas, K Upadhyay, RV Uthappa, SB Wagh, LJ Wright
LATEST IMAGES

MORE...
Social bookmark this page
Post comments: