Russell Brand spotted going for yoga with unknown woman
New Delhi, Fri, 24 Feb 2012
NI Wire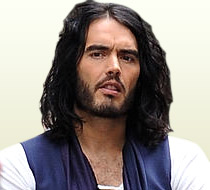 Comedian Russell Brand, who was seen with Mexican painter Oriela Medellin Amieiro earlier this week, was reported going for his morning yoga class with another beautiful woman on Wednesday.
Very recently he has split with pop star Katy Perry but this comedian appears to be already back in full swing.
He left his Hollywood house with this mystery woman before 9 am and they returned after two hours of spiritual and yogic practices. They then left separately around noon.
Brand, 36, looked untidy in white long johns, leg warmers and flip-flops but it didn't seem to put off his latest friend as they rode in his latest Range Rover.
"They looked very friendly - laughing and giggling," an anonymous looker has been quoted saying in the Sun.
"At one point she playfully punched him on the arm. They went back to his place together.
"Russell seems to be enjoying these yoga classes. What man wouldn't when it results in a string of beautiful new ladies on your arm?" the onlooker added as per reports.
--With inputs from ANI