Oz media against giving Tendulkar country's highest honour
New Delhi, Wed, 17 Oct 2012
NI Wire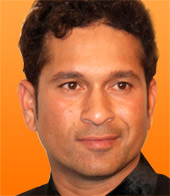 After the decision of Australian Prime Minister Julia Gillard to honour cricketing legend Sachin Tendulkar with the Order of Australia medal, the Australian media finds it unacceptable.
Senior Oz cricket writer Robert Craddock blamed Tendulkar saying him a liar for the role he played in the Harbhajan Singh-Andrew Symond racial controversy during the Sydney Test in 2008. In addition to that, he also raised questions on Tendulkar's worthiness to receive country's highest honour.
"It is the Order of Australia honour where AM stands for Absolute Massacre. That was what Sachin Tendulkar did to Australian bowling attacks on too many occasions during a peerless career in which he scored more Test runs against Australia (3438 at 57.3) than anyone apart from the great Englishman Jack Hobbs," Craddock wrote in his column for the Courier Mail.
"On Indian wickets flatter than pre-cooked papadums he simply slaughtered Australia and we will give him a medal for it," he added.
"On her first official visit to India, Prime Minister Julia Gillard said cricket had forged a "great bond" between the two countries and announced Tendulkar would be appointed a Member of the Order of Australia," he said.
Craddock further added: "Hats off to Tendulkar's brilliance for he was one of the few overseas batsman of his era to occasionally dominate Australia in Australia - but it's up to India to fall at his feet, not us."
"As well as the on-field torment, Tendulkar also lied to an International Cricket Council appeal following the suspension of Harbhajan Singh for racially abusing Andrew Symonds during the Sydney Test in 2008 to save face for his country and his teammate, who was a serial offender," he further said.
"This decision is a token giveaway of great honour in the hope of winning favour of one of the world's most dynamic and fast-growing economies," he added.
"Am I being cynical in suggesting it is also a play for the fast-growing Asian vote in marginal seats? Having a cheap curry in India is one thing - currying cheap favours is quite another," he further wrote.
-With inputs from ANI