Anand, Kramnik World C'ship face-off in Oct'08
New Delhi, Thu, 20 Dec 2007
NI Wire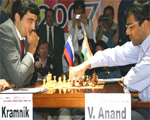 Dec 20: Reigning World champion Viswanathan Anand of India will take on the challenger Vladimir Kramnik of Russia in the World Championship clash that has been scheduled for October 11-28 next year in Bonn, Germany.
The dates of the much-awaited face-off have been finalised after long-drawn out discussions between FIDE, players and organisers of the event over the past two months.
The match will consist of 12 games, played under classical time controls. If there is a tie at the end of these games a tie-break will be played on Oct 30. The prize money of 1.5 million euros (about $2.1 million) will be distributed equally including taxes and FIDE match fees.
The 37-year old Anand is the reigning and undisputed World Champion. He won the title in September 2007 at the World Championship tournament in Mexico City. Kramnik, 32, was second in this double round robin event.
So now it comes to the deciding duel that promises enormous suspense, as Anand is the current champion – and Kramnik is still undefeated in duels for the World Championship.
Meanwhile, Veselin Topalov who had beaten Kramnik in a title-match will clash with Gata Kamsky, recent winner of the chess World Cup in Khanty-Mansiysk, Russia. The winners of the Anand-Kramnik and Topalov-Kamsky games are expected to clash in 2009.
The Anand-Kramnik match is part of a 120-year tradition of chess history, which includes matches like Capablanca-Alekhine, Fischer-Spassky, Kasparov-Karpov and Kramnik-Topalov.
The World Chess Championship 2008 takes place under the patronage of the German Finance Minister Peer Steinbrück who is also an enthusiastic and ambitious chess player.
The main sponsor of the World Championship is Evonik Industries, an industrial enterprise located in Essen, Germany, who also sponsored the 2006 World Chess Challenge between Kramnik and the chess programme Deep Fritz.
Final Standings 2007 World Chess Championship Tournament Mexico City:
1. Viswanathan Anand (IND) 9 points
2. Vladimir Kramnik (RUS) 8
3. Boris Gelfand (ISR) 8
4. Peter Leko (HUN) 7.5
5. Peter Svidler (RUS) 6.5
6. Alexander Morozevich (RUS) 6
7. Levon Aronian (ARM) 6
8. Alexander Grischuk (RUS) 5.5