No mobile phones for students under 16 in schools: K'taka Govt.
Bangalore, Wed, 12 Sep 2007
NI Wire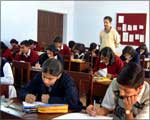 Sep 12: Karnataka government came with a decision to ban use of mobile phones by children under the age of 16 in schools and junior colleges and also ban the sale of mobile handsets to children of the same age group.
The decision had been taken on the basis of reports given by medical experts on health problems by using mobile phone.
Basavaraj Horatti, Minister of Primary and Secondary Education said ''Use of mobile phones by growing children for long durations have an adverse impact on brain, nervous system and ear. We have taken this decision on the advice from paediatricians. A circular will be issued in this regard within a few days.
R Ashok, Health ministers said, ''we will examine whether to authorise the police department to enforce it.'' "However parents and school management can play an important role in enforcing this ban in the interest of their own," he added.
Health minister said that school authorities would be asked to confiscate mobile phones found with the student and it will not be returned.
Government will formulate law regarding this with the help of Law Department. Also parents help will be taken to ensure that their children should not use mobile sets in their home.
It is also reported that many teacher have a complaint that students indulge in sending SMS's, receiving calls, listening songs in class hour affect their studies.
This decision has come over an initial finding of Telecom Engineering Centre (TEC), which said that exposure to mobile radiation may cause health hazard and use of same should be stopped for children below 16. The findings are yet to be ratified.
T V Ramchandran, Director General, Cellular Operators Association of India (COAI), reacted ''we have also got studies done and all of them say that there are no health hazards. Powerful organizations like the WHO, health councils etc say there is no evidence whatsoever,''.
WHO had earlier issued mobile phone radiation health advice to use short calls and hands free devices, even though it had no definite evidence of health risk. While other researches reported that exposure to mobile lead to 30% increased risk of brain tumour, also there are cases reported where Leukemia cell increased dramatically. Some says that exposure to such radiation killed brain cell in rats. High blood pressure and irritability are also found to be associated with the persons exposed to Mobile radiation for a longer period.
In contrast to these results, a report was published that the brain warming due to continuous use of mobile actually improves brain function.
It is hard to reach to a conclusion that if it really affects or not and to what extent as one study suggests health problem than other researches deny it.
But it is sure that mobile has other risk factor with much more intensity than the study claim, that is chance of meeting fatal accident while driving, and loss of direction as school are the foundation of one's carrier.
The decision of banning mobile from the school premises has been welcomed by Teachers and rejected by students.