Out going president gives ten-point vision to the country
New Delhi, Wed, 25 Jul 2007
Pallavi Sharma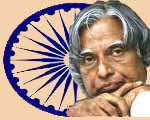 July 25: Aspiring to be included in the list of developed countries till 2020 Kalam said that India should have the minimum gap between urban and rural population and there should be equitable distribution and adequate access to energy and water. He outlined his dream of a nation "where the governance is responsive, transparent and corruption free, and a nation that is one of the best places to live in and is proud of its leadership."
The president also expressed hope about the agriculture sector saying that he has the confidence that farm sector can grow at 4% growth rate. To bring this come true he called for empowering the farmers to ensure second green revolution to double the agricultural production. For this he suggested that all six lakh villages should be connected not only among themselves but also to urban societies. Rural India can also become prosperous only when the gap between rural and urban is minimized said president.
Starting his speech with the thanks to the people for five beautiful and eventful years, people's president promised to remain connected with the hearts and minds of the people.
He also revealed what is the mission of his life? People friendly president said that his mission is to "bring connectivity between a billion hearts and minds of people in the multi-cultural society". He also promised to be with the people in the great mission of developing India till 2020.
He expressed joy over his association with the people from different fields of life, politicians, businessmen, judiciary, academics, youth and children.
The missile-man called for the preservation of the rich and diverse culture and civilization of our country. He said that it is our duty.
Giving a vision of a society he stressed that poverty should be eradicated and we should build a society free of illiteracy, crimes against women and children, and where none should be feel alienated.
Mr.Kalam said that our nation should be a hub of scholars from all over the world and the destination for the talent and investment.
With open heart the president bestowed praise on armed forces saying that when the whole nation sleeps our defence teams awake to guard us.

Boosting the confidence, Mr. Kalam said that we are the best human resource on earth with 540 million being below 25 years of age.
Leaving the magnificent office he appealed to the MPs to develop a vision to make country a developed nation in the similar fashion as the constitution was drawn.
With some nostalgic tones and future visions Kalam concluded his last address to the nation as president.