Mumbai bomb blasts accused will be punished: PM
New Delhi, Fri, 13 Jul 2007
NI Wire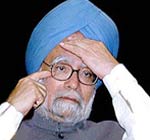 July 13: A day after the first anniversary of last year's serial bomb blast in Mumbai, Prime Minister Manmohan Singh said yesterday, "The government will not rest till the guilty are punished". P M will reviewed all the steps taken so far relating this case includes the progress of the case and the compensation provided to families of the victims and the injured.
"P M will reviewed the reports of hospitalizations, payment of medical bills and provision of employment provided to the injured victims and expired victim's family", said Sanjay Baru, the media adviser of Prime Minister yesterday in a statement.
Appreciating the courage and patience of the people of Mumbai, P M Singh said, " All those against whom cases have already been registered and all those who are wanted in this case will be brought to justice ". He also praised the people of Mumbai for their firm determination to stand united in the fight against terrorism.
Maharastra government and Ministry of Railway has approved 96 job applications among 118 candidates from the family of accident victims as they provided the information.
As it is known that seven terrible bomb blasts held in the different local trains of western Railway in Mumbai within just 10 minutes at July 11, 2006. A day before yesterday, entire Mumbai paid homage to 187 victims, died in the blast while 812 were injured.
Mumbai police has chargesheeted so far 25 persons in which 11 were under custody while remain thirteen includes Azam Cheema, the former commander of Pakistan were still free and out of country. The MACOCA (Maharastra Control of Organised Crimes Act) court has issued non-bailable warrants against 15 escapees and Red Corner notices have been issued against two persons. The first hearing of this case is going on under the MACOCA court of Maharastra from July 28, 2007.