New turn to the dowry case, NCW reveals truth
New Delhi, Fri, 13 Jul 2007
NI Wire
null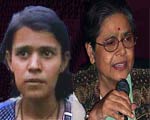 July 13: Young woman of Rajkot again hits headlines due to the fresh findings of National commission for women in her dowry harassment case. Almost a week ago Pooja sent a shock-wave to the country when she adopted extreme methods of protest.
Pooja was being harassed for dowry by her husband and her mother-in-law. She tried to get her complain registered in police station but her voice went unheard by the police. When she failed to obtain relief from any side, she registered her protest against police by stripping her off before public and drew the attention of police and others as well.
Earlier sociologists said that lethargic legal system forced her to take unusual measures.
Now when National Commission for Women (NCW) took the case in their hands they found in their probe that this is not dowry case but a case of sexual exploitation and human trafficking. It was the misuse of her which prompted her to come on street in such a manner.
Member of NCW, Malini Bhattacharya smells a trafficking chain in this case. There are people who take advantage of the poverty and vulnerable condition of young girls, says Malini Bhattacharya.
The commission found that Pooja was victimized by child trafficking. And even after getting married to Pratap she was forced to get into it again.
Rajkot police is investigating the case as domestic violence case only and had no information regarding trafficking or sexual abuse of the woman.
The court has directed the police to provide protection to Pooja and also to her landlord to allow her to stay in the same house she is living currently.
Pooja has also revealed the names of other girls misused by them, said NCW. Those names have been handed over to Rajkot Police commissioner for further investigation.
null