DMK not in favour of exclusion of creamy layer
New Delhi, Sat, 19 Apr 2008
NI Wire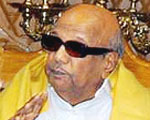 Dravida Munnetra Kazhagam (DMK) in a meeting on Friday decided to support the Supreme Court verdicts of exclusion of creamy layer from the OBC reservation this year but is vying for the inclusion of same from next year.
Party supremo and Chief Minister of Tamil Nadu M Karunanidhi avowed in the meeting that the party will insist on having creamy layer in the purview of reservation for OBC.
He said referring creamy layer as shirt, "We want both the shirt and the shawl. But if the centre can give us only the shirt this year and not the shawl we will accept it. But we will demand the shawl next year."
The party passed a resolution to fight the matter legally and asserted UPA's support with its campaign. The party has also appealed to the government to include creamy layer from this year only.
DMK though has high regards for the Apex Court judgement but found the exclusion 'irritant'.
The party opined that the exclusion of creamy layer defiled the very concept of reservation given in our constitution which portray OBC as socially and educationally backward not economically, while the exclusion has been done purely on the basis of economic criterion.
"While reservation was not a tool to eradicate poverty, it was a right guaranteed by the Constitution for backward classes, neglected socially and educationally for centuries," the resolution said.
The Supreme Court earlier had given green signal for 27% the reservation for OBCs in higher central educational institutions, but kept creamy layer out of reservation scenario.
All the premiere institutions like IITs and IIMs have decided to go with the OBC reservation system but in phased manner from this academic year only.
Reservation has become most debatable issues in India where still people are grappling and trying everything to get the backwardness tag. Though intended for upward mobility it has still not been able to help the neediest one, their status has not changed from what they were yesteryears and what they are today.
Party like DMK who are asking inclusion of creamy layer will only harm the actually backward people. Inclusion of rich or creamy layer will deprived the poor by snatching the quota which they would have got after the exclusion of creamy layer.