Anna breaks Anshan; cancels 'Jail Bharo Andolan'
Mumbai, Wed, 28 Dec 2011
NI Wire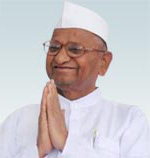 The unhealthy Anna on Wednesday evening has declared to discontinue his 'Anshan' following the advice of the attendant doctors who were continuously monitoring the health of Anna Hazare. He has also cancelled the scheduled 'Jail Bharo Andolan' (filling up the jail) for uncertain period.
After worsening condition, Anna today evening broke his fast and also cancelled the second phase of his protest - 'Jail Bharo Andolan' schedule to begin from 30 December 2011 from Delhi viewing the sprawling ground of Mumbai.
The attendant doctors have asked Anna to break his hunger strike and warned that if he continued his hunger strike, his health may be worsen.
The other members of Team Anna, spiritual guru Sri Sri Ravi Shankar have also asked 74-years Gandhian to discontinue hunger strike.
The Chief Minister of Maharashtra Prithvi Raj Chavan yesterday met to Anna Hazare after getting the news of his bad health and appealed him to break his fast for the shake of his good health.
After breaking his fast, Anna said, "Whatever we are seeing today in Parliament is tragic. So I have decided to call off the fast today. There is only one way now. We will make a programme in the five states and go and awaken people there. I will tell them don't vote for traitors."