A significant development in Arunachal after a long sleep
New Delhi, Sat, 02 Feb 2008
Vikash Ranjan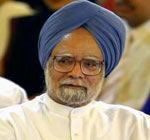 While the talks with China on the border dispute is still on the progress, the Prime Minister's statement regarding Arunachal Pradesh that "the sun kisses India first in Arunachal Pradesh and it is our land of the rising sun" convey a strong message to China.
The message though was veiled but strong to China, which stakes territorial claim over parts on the state.
The statement was loud and clear when Manmohan Singh said, "It is my sincere hope that like the sun, Arunachal Pradesh will also rise from the east as a new star and become one of the best regions of our country."
Manmohan Singh's visit to the state after a gap of nine years by any Indian prime minister holds great and far-reaching significance, particularly at the backdrop of recent official visit to Beijing by Indian delegation headed by him. Although the visit was circle around strengthening of trade and economic cooperation and both countries agreed on the peaceful resolution of the border dispute lingering since 1962.
But the Prime Minister sent a clear signal as was expecting that he would make a bold statement to assert that "Arunachal Pradesh is an integral part of India" and no compromise, could be made on the territorial integrity of the state and tolerated at any cost.
While talking to soldiers at Lohitpur on Friday, he said India was ready to meet any challenge, although he did not mention clearly what the challenge was. He said, "Today we are ready to face any challenge. It is mandatory to make our nation strong to maintain peace." He announced that the state would get a new Greenfield airport in Itanagar, besides five other airports. He said a direct helicopter service between Guwahati and Tawang would also being soon.
Consider Manmohan Singh who despite not being a good speaker in Hindi language, spoke in Hindi for nearly half-an-hour. Even the Chief Minister Dorjee Khandu made a welcome speech in English. So the message though was unveiled but was clear to China. Privthiraj Chavan, Minister of State in the PMO while talking to reporters rightly pointed out that it was not a foreign affairs trip. Rather it is a developmental trip to one of our own states.
Indeed Manmohan Singh deserves credit for ending a decade long wait to visit Arunachal Pradesh, a sensitive border state by any Indian prime minister. It was the then Prime Minister H D Deve Gowda, who had last visited Arunachal Pradesh in 1986. Though the deputy prime minister L K Advani had visited sometimes to the border state during the BJP-led NDA government, but the then Prime Minister Atal Bihari Vajpayee never visited the stated.
In fact the real problem was never the Chinese claims to Arunachal Pradesh. It has been under direct and effective control under Indian government for so long. The problem is instead of integrating the state physically and economically with India, New Delhi preferred to maintain distance with the state and keep the region remote.
One can understand if the British Government in India treated Northeastern states as a buffer state against China, because Britishers had nothing to do with India's prestige and integrity. But why Indian government persisted with the deliberate neglect of its frontiers. Perhaps the truth is as New Delhi too justified its masterly inactivity in Arunachal Pradesh as it was slackening a potential Chinese aggression. So perhaps New Delhi decided underdevelopment was its best defence.
Now the Indian government has done really a commendable job by infringing this decade long cold "policy of underdevelopment". If we would not treat them like a part of our body, how would they consider themselves as equal to any other states? Prime Minister Manmohan Singh rightly observed that development must be the only strategy for territorial defence.
Prime Minister accorded the highest priority to the state and said, "It is only through developmental measures and through all-round development of Arunachal Pradesh that we can ensure that the nation moves ahead in step towards a glorious future."
In keeping the development as the first priority of his government, Dr. Singh launched several schemes comprising two power projects and provision of electricity to every household in the state in two years, which would cost Rs.550 crore. He asserted that the thrust areas would be to establish rail, road and air connectivity, and development of infrastructure, education and health care facilities.
He announced a Rs.5,500 crore package for trans-Arunachal highway, a drinking water scheme and anew secretariat building are among the other projects proclaimed by him, who had visited the state as Deputy Chairman of the Planning Commission in 1986.
This is indeed a new beginning after a decade long sleep by the Indian government. But the journey to the northeastern states has just started with the visiting of Arunachal Pradesh. The government must also extend the new strategy and economic development to other northeastern states and the other Indian regions bordering China.