Supreme Court gives legal tag to Live-in-relationship
New Delhi, Fri, 18 Jan 2008
Vikash Ranjan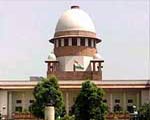 'Mangalsutras' and 'sindoors' are no longer essential for a married lady to show as a sign of marriage because hence onwards a woman living with a man since long a.k.a 'live-in-relationship' will be acknowledged as a legalised marriage.
Although sanctity of marriage would not be lessened by the remarkable judgement passed by the Apex Court Thursday, which held that live-in-relationship should be treated equivalent to marriage.
The socio-religious reform, initiated by Brahmo Samaj founder, Raja Ram Mohan Roy during the early 19th century, is still on progress.
The bench headed by Arijit Pasayat not only validated such a relationship, but going one step ahead, it said that the children born to such a parent would be called legitimate. Besides these children will have the rights in their parent's property.
One advantage for the ruling that it would not only deter the couple to take hasty decision of splitting each other but also would encourage the couple to produce their offspring, who were earlier afraid of regarding their future in case of their break-up.
Children of such parents were not treated at equal footing in the society, now would live with their head hold up straight. Because born to either 'in-wedlock' or 'out of wedlock' parents would not decelerate their morality.
While the presumption of marriage in such cases is 'rebuttable', at the same time heavy burden lies on the person, who seeks to challenge such a relationship to prove that no marriage took place between them.
On the flipside of this advantage comes disadvantage, which generates doubt in some minds that the new generation will be more spoiled. They will prefer live-in relationships instead of arrange marriage to escape from responsibility and indulging in any social bondage. And what's the guarantee that the male in such relationship will turn out to be a loyal partner in the long run? What if he leaves the girl with kids and runs away without prior notice? In case of arrange marriage at least- despite increasing divorce rate- there is some emotional, societal, and family pressure that prevents them from taking hasty decision of divorce.
The institution of marriage already is weakened gradually in contemporary Indian society, particularly in urban pockets. More couples instead of tying knot preferring to simply live together following the western culture, which does not suit to Indian culture and tradition.
Although the live-in-relationship is quite prevalent in western countries, but the reality in India is different. Here marriage is still an institution, which is preferred over any form of union. And one must not forget that significance of marriage, as an institution will not be diminished.
Finally discarding all such doubts and apprehensions the verdict given by Supreme Court is crucial for the children's future, their prestige and treatment among the society at equal footing.
Besides in a liberal society as ours women should be given the liberty to choose their life partners and should not be forced into marriages if they are not ready.
Earlier through Domestic Violence Act 2005, female of live in relationship were given protection hence it was on the verse of acceptance by covering it under the ambit of legal term. Though live in was considered as disturbing the very social fabric but seeing the surmounting number of such relationship this judgement is a welcome step.