Pakistan's claims of Gilgit and Baltistan not entertained in European parliament
New Delhi, Thu, 24 May 2007
NI Wire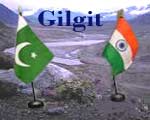 A letter from the embassy of Pakistan by Mr Sayeed Khalid and addressed to Belgium's Baroness Nicholson, was presented on the occasion of presentation of report by foreign affairs committee on 'Kashmir: present situation and future prospects' to the European parliament alarmed its neighbour, India. In the letter Pakistan ambassador claimed that whole of the northern areas which includes Gilgit and Baltistan were not a part of Jammu and Kashmir in 1947, hence the references to these areas in the report should be deleted.
In support of the claims the ambassador has cited the absence of northern areas from the 1846 treaties of Lahore and Amritsar
The letter also conveyed that it was because of this reason that UN resolutions are not relevant to these areas and remain out of the list of disputed ones. The letter also reads that Siachin Glacier forms part of northern areas and physical control over it has been recognised by the Indian government.
European parliament rejected Pakistan's claims and did not entertain the fresh claims made by Pakistan's ambassador, which says that their research and inquiry proves these areas as part of Jammu-Kashmir. Gilgit and Baltistan constituted the parts of Jammu and Kashmir and were so in 1877. European committee on foreign affairs expressed its inability to recognize such claims of Pakistan. Nicholson cleared that there is no historic or geographical justification for such claims made by Pakistan.
Such claims have come as a surprise not only to India but also to European Parliament and can halt the ongoing dialogue process. Indian foreign minister, Pranab Mukherjee and Pakistan foreign minister Kasturi are likely to meet on May 28 - 29, in Hamburg, where India will definitely raise this issue.