'Purani Jeans' Trailer hits the one million mark
Mumbai, Mon, 31 Mar 2014
NI Wire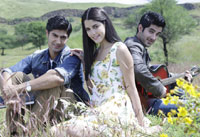 Fresh new talent certainly is being warmly welcomed not just by the film fraternity but by the Indian audiences! Proving their appreciation for nouveau cinema is the upcoming much awaited coming-of-age retro flick 'Purani Jeans' hose very 1 st trailer has hit the coveted 1 million mark on a top social video website!
The fresh and lively trailer of the movie PURANI JEANS grabbed an unprecedented 1 million views within a week of its release in the digital world thanks to its cast's strong onscreen chemistry, catchy dialogues and entertaining yet believable scenes. Starring Tanuj Virwani, Aditya Seal and Izabelle Leite, Purani Jeans is a bittersweet tale unraveling the 'wonder years' of life through the eyes of youth, directed by young award-winning ad film-maker Tanushri Chattrji Bassu.
Speaking about this special milestone, Director Tanushri Chattrji Bassu said, "I am thankful to all the viewers who have liked the trailer of my debut film Purani Jeans, and have accepted it with open arms. I am glad that it has received such accolades. I hope the love continues."
Not only has the lively trailer hit the right sport amongst the target audience, but the widespread acceptance of the movie shows the strong connect it has already bagged with the cine-goers, with a promise of more to follow!
Produced by Manju Lulla of Eros International and NextGen Films and music by Ram Sampath, the film is a feel good take on youth that promises to leave the viewer with the thought that Friendship is indeed like a pair of old jeans-the older it gets the better it becomes!
Purani Jeans is produced by Eros International and NextGen Films and directed by Tanushri Chattrji Bassu. It is slated to release on 1st May.