Parade for 26 th January: Troops of the BSF on camels
New Delhi, Fri, 17 Jan 2014
NI Wire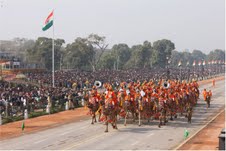 The Republic Day parade is a matchless display of the state of defense preparedness of the Nation as well as a showcase of its diverse and rich cultural heritage. This most eagerly watched event occurs on 26th January every year in the national capital, New Delhi.
Camelry, another name for the camel cavalry – similar to the term "Cavalry' which is associated with units of mounted horsemen units or the Camel Contingents, that participate in the Republic Day Parade belong to the Border Security Force of India. These ceremonial contingents are not merely the pride of that magnificent force, but also that of the entire nation. Troops of the BSF on camels, holding various modern arms of combat & the BSF musical contingent on camels inspire as well as elevate the head and heart of the millions of viewers.
About the Border Security Force ,December 1, 1965 is a red lettered day in the annals of this unique force. It was on this day, the Government of India formally established the BSF, a new organization to provide security to the borders of India.
The BSF has unique combination of human resources coupled with very special units of camel contingents, which have added luster, grace and value to the overall name and fame of the force. It is significant to note that the BSF has its own Air and Water Wings & Artillery Regiments fulfilling a continuous commitment to the integrity and freedom of the country. "Borderman" or "Seema Prahari", an affectionate reference to the soldier of this magnificent force is a vital cog of the first line of defence all along the borders of India and in all the tasks referred to earlier.
The BSF has on its rolls a large number of camels. A number of Seema Praharis and camel teams perform numerous duties in several sensitive zones of our national frontiers. A substantial number of such teams are generally stationed near the border outposts located on the India-Pakistan border, predominantly situated in the states of Rajasthan and Gujarat.