Bombay Talkies: Movie Review, story, expectations
New Delhi, Thu, 02 May 2013
Amit Kumar
null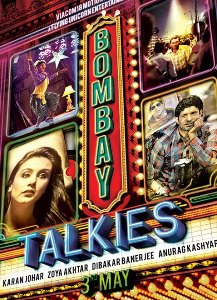 Cast: Rani Mukerji, Randeep Hooda, Saqib Saleem, Nawazuddin Siddiqui, Sadashiv Amrapurkar, Naman Jain, Khushi Dubey, Vineet Kumar Singh, Sudhir Pandey and Amitabh Bachchan
Directors: Karan Johar, Dibakar Bannerjee, Zoya Akhtar, and Anurag Kashyap
Release date: May 3, 2013
Bombay Talkies, which a collection of four stories by four different directors is all set to release this Friday on May 3 and is much sough of for the big names like Karan Johar, Dibakar Bannerjee, Zoya Akhtar, and Anurag Kashyap associated with it. Bombay talkies is a tribute to celebrate the 100 years of Indian Cinema and the film has already got recognition as it would be screened in the 66th edition of Cannes Film Festival going to be held May 15 to 26 this month.
The first story of Bombay talkies is a Karan Johar directorial story featuring Rani Mukerji and Randeep Hooda. The story is about of a sterile marriage of an urban couple (Rani Mukerji and Randeep Hooda), who seems to live happily until an exuberant homosexual enters their life and everything changes since then.
The second story by Dibakar Bannerjee stars actor Nawazuddin Siddiqui, who is a failed actor and struggles to get an identity after his father's death until he encounters the last chance to prove him to the world and especially to his daughter.
The next story in Bombay talkies takes you to Zoya Akhtar's story of a little boy played by Naman Jain who wishes to become a dancer breaking all barriers as his father (Ranveer Shorey) wants him to become a pilot or a cricketer.
Last but not the least, the final story brings you Anurag Kashyap's tribute to the legendary Amitabh Bachchan's stardom. This is a story of a common man from U.P., who is a great fan of Amitabh and comes to Mumbai to fulfil his ailing father's last wish which may also save his life.
All the four stories are unique in some sense and reflects the mastery of all the directors. This is the reason there is a lot of expectations from Bombay talkies, which has been already added to the watch cart of the viewers prior to its release.
null