Need to impart skills and world-class education to the youth: PM
Narayanpur (WB), Sat, 16 Mar 2013
NI Wire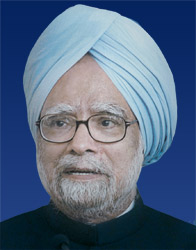 Prime Minister Manmohan Singh has said that there is a need to impart skills and world-class education to the youth for a faster economic growth of the country. He was addressing a rally at the foundation laying ceremony of the Ghani Khan Choudhury Institute of Engineering and Technology in Narayanpur in Malda district.
On the occasion, Prime Minister said, "To fulfil the demands of our fast growing economy, we have to make our youths educated and skilled. The hard fact is that without proper skilled manpower, we cannot sustain the fast pace of economic growth for long."
He added that Congress-led United Progressive Alliance (UPA) government understood the demands of the people well and had laid special stress on the education sector.
Talking about the government commitment, he said, "We have increased government expenditure to four percent of GDP from 3.3 percent of GDP. In higher education we have set up a large number of engineering institutes, including 16 central universities, seven Indian Institute of Management, eight Indian Institute of Technology, 10 National Institutes of Technology and five Indian Institute of Science, Education and Research."
Quoting about the need for a quality based education, he said, "In higher education, we are laying greater focus on quality. We want the youths not only to make full use of the scope of the higher education, but also to get world class education. We want our scientists and engineers to acquire worldwide fame."
It is noted that the Ghani Khan Choudhury Institute of Engineering and Technology (GKCIET) is named after late Congress leader and union minister A.B.A. Ghani Khan Choudhury, who is often called the architect of Malda for the development work he initiated in the district.
(With inputs from IANS)