Swine flu horror in India: 261 killed in 2013
New Delhi, Thu, 28 Feb 2013
NI Wire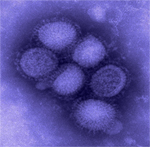 Despite all the necessary steps taken and precautionary measures, India has lost total 261 lives of Swine flu in thins year. The shocking data has been released by the health ministry, which states that most deaths were from Rajasthan.
has killed 261 people in India this year, with most deaths reported from Rajasthan, the health ministry said.
According to sources, a total of 2,329 people tested positive for the Influenza A (H1N1) virus, which causes swine flu, in 35 states and union territories.
The highest number of cases (834) was reported from Delhi till Tuesday, followed by Rajasthan (564) and Haryana (305).
Shockingly Rajasthan reported the highest number of deaths at 107, followed by 51 in Gujarat, 36 in Haryana and 32 in Punjab, the ministry said.
The ministry gave a break up of swine flu cases in the country in the past four years.
It is noted that the highest number was reported in 2009 (27,236), followed by 2010 (20,604) and 2012 (5,054 cases).
The highest number of swine flu deaths took place in 2011 (1,763), followed by 2009 (981) and 2012 (405).
(With inputs from IANS)