New magnetic device could soon relieve migraine patients
New Delhi, Sat, 22 Sep 2012
NI Wire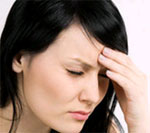 A new magnetic beam based sci-fi treatment can prove magic for millions of migraine sufferers, researchers say.
Scientists have developed a new device, which can be handled by hand and will deliver a light magnetic pulse on the back of the head.
California-based eNeura Technology has claimed that this magnetic device can claims the device can mitigate the symptoms for up to two hours, the Daily Mail reported.
The research found that three months of treatment was found extremely effective in alleviating the unbearable pain in 73 percent of patients treated in UK clinics.
Moreover, related symptoms of migraine such as nausea, vertigo, memory problems and hypersensitivity to light and noise improved for 63 percent on the tested patients.
More than half found the number of headache days they had, which for some sufferers can be chronic, had declined to some extent.
Migraines are known to be an 'electrical storm' but the new 500-pound magnetic device called the Spring Transcranial Magnetic Stimulation system seems to short-circuit this activity.
The entire findings of the study were revealed at the European Headache and Migraine Trust International Congress in London.
-With inputs from ANI
LATEST IMAGES

MORE...
Social bookmark this page
Post comments: