Weight training reduces diabetes risk by 34 percent
New Delhi , Tue, 07 Aug 2012
NI Wire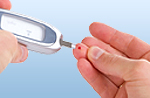 In a major development for control of epidemic of diabetes, a study has found that regular weight training can reduce the risk of developing diabetes in men by up to 34 percent.
Aerobic exercise that includes brisk walking or running, can add to greater benefits, the Daily Mail reports.
Data from 32,000 Americans on which study was conducted was analyzed and effects of lifestyle on health were also observed. During the study conducted from 1990 to 2008, a total of 2,278 participants developed Type 2 diabetes, the Mail said.
Anders Grontved, from the University of Southern Denmark who led the study said: "Previous studies have reported that aerobic exercise is of major importance for Type 2 diabetes prevention.
"But many people have difficulty engaging in or adhering to aerobic exercise.
"These new results suggest that weight training, to a large extent, can serve as an alternative to aerobic exercise for Type 2 diabetes prevention."
--with inputs from IANS