Jism-2: Movie review and story
New Delhi, Fri, 03 Aug 2012
NI Wire
null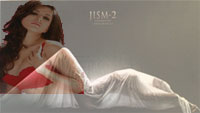 Jism-2(Adult Thriller)
Cast: Sunny Leone (IIzna), Randeep Hooda(Kabir) and Arunoday Singh(Ayan)
Director: Pooja Bhatt
In recent years a number of movie have come where sex was used to trap a man, and Jism-2 is no exception. Her Izna uses her body to enter into the extremely protected world of cop turned criminal Kabir Khan (Randeep Hooda). Izna was roped in buy intelligence Bureau (IB) officer Ayan (Arunoday Singh).
The viewers might expect the story to hover around Sunny Leone as expected, but the movie is not as dirty as expected. The movie gets a steamy start, given by voluptuous Leone as story unfolds.
Movie review
Intelligence bureau officers Ayaan and his senior Guru Saldanah (ZAkaria) offer Izna ten crores to take revenge on Kabir Khan who is a cop turned criminal. Kabir Khan is also deserted lover of Izna. Taking revenge is a win-win situation for Izna and IB officials Ayan and Zakaria.
And here Izna comes into action, moving next to Kabir Khan, who is living underground posing as a musician in Galle Sri Lanka. The camera captures the picturesque locales of Galle. Izna uses all her seductive allures and Kabir cannot resist the temptation. Ayan is in love with Izna.
What takes JIsm-2 near a worth watching movie is powerful performance of Randeep Hooda, Sunny Leone adds glamor as expected. Director Pooja Bhatt should be given credit of filming intimate scenes with effectiveness without adding vulgarity.
Viewers might enter the cinema hall to see some steamy performance from Sunny Leone and she does disappoint. But she surprises the viewers with her amazing grace.
Hooda has given one of the best performances of his life and keeps viewers glued to the screen with his performance.
Jism-2 is a sensuous movie with a balanced dose of emotions and asthetics. Scripted by Mahesh Bhatt this 2hours 10 minutes adult thriller is a feast for your weekend.
null
null
LATEST IMAGES
null
null
MORE...
Social bookmark this page
Post comments: