Kyrgyz President Almazbek Atambayev sacks government
New Delhi, Fri, 24 Aug 2012
NI Wire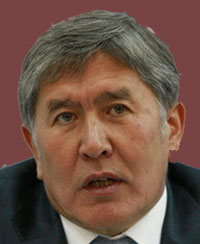 Kyrgyzstan is once again moving towards political instability as the President Almazbek Atambayev has signed a decree Friday sacking the government, says the reports of the state press service.
The move followed a break-up of the majority coalition in parliament.
Two partners of the coalition government in the Kyrgyz parliament, Ar-Namys and Ata Meken, have announced that they would leave the coalition.
The coalition that brought in existence in January by Omurbek Babanov, lasted less than eight months.
Kyrgyzstan is a parliamentary republic where prime minister, nominated by coalitions with a parliamentary majority lead the government.
After 2010 elections, five parties were elected to parliament, four of which - the Social-Democratic Party, Ata Meken, Respublika and Ar Namys - formed an alliance, while the Ata Zhurt Party sat in opposition.
--With IANS/RIA Novosti inputs
LATEST IMAGES

MORE...
Social bookmark this page
Post comments: