Ek tha Tiger Movie Review: The Tiger roars
New Delhi, Wed, 15 Aug 2012
NI Wire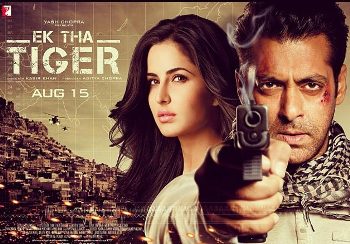 Cast: Salman Khan as Tiger, Katrina Kaif as Zoya, Ranvir Shorey as Gopi, Girish Karnad as Shenoy
Director: Kabir Khan
Producer: Aditya Chopra
Music Director: Sohail Sen , Sajid Ali , Wajid Ali
Lyricst: Neelesh Misra
The long wait for the Salman Khan fans is finally over with the release of the much-awaited movie of the year "Ek tha Tiger" this Friday on the occasion of Independence Day. With much earlier predictions made about the success of the movie, Salman has again come up with his best and not disappointed his lovers with a power packed performance with a strong script.
Ek the Tiger is a action cum romantic cum spy thriller that revolves that is basically the story of a spy, "Tiger" who works for Indian Intelligence Agency 'RAW'. The story of the movie revolves around a scientist from the Trinity College who is a suspect for selling the secrets of missile technology of India to Pakistan.
Based on the suspicion, the Indian government appoints a secret agent with codename Tiger (Salman Khan) and sends him on a mission to observe the activities of Professor.
After reaching the place, all the attempts of Tiger fails to meet the Professor when he meets professor's caretaker Zoya (Katrina Kaif), who is studying at a fictional dance academy and becomes friend to her. Once Tiger starts spending time with Zoya, he explores the Human side of his life for the first time apart from being a secret agent. Gradually, Tiger falls in love with Zoya.
The action drama starts for Tiger then, when the intelligence world prohibits him from falling in love.
Salman is once again is brilliant with his role as a secret agent following his trend in his earlier hits like Wanted, Dabangg and Bodyguard. Katrina as uaual looks beaufiful on screen and is getting improved with every movie. Ranvir Shorey as Gopi, who plays a RAW officer and Tiger's friend has also done a tremendous job with his role.
After making various documentary films, Kabir Khan has presented a real good movie in association with Neelesh Mishra who has given a brilliant script for the movie and known for his famous writings book 173 Hours in Captivity: The Hijacking of IC-814.
The shootings of the movie ahs been completed in the exotic locations of Dublin, Cuba and Istanbul.
Music Directors Sohail Sen , Sajid Ali and Wajid Ali has done a great job with music with the music already topping the chart.
Overall, director Kabir Khan has made a complete entertainer making it a must watch movie of the year. You are definitely going to love it after watching this.
Submitted by: Amit Pandey
LATEST IMAGES

MORE...
Social bookmark this page
Post comments:

Iniyan Elango
August 16, 2012 at 2:57 AM