Eurozone's debt crisis to continue longer
New Delhi, Fri, 06 Jul 2012
NI Wire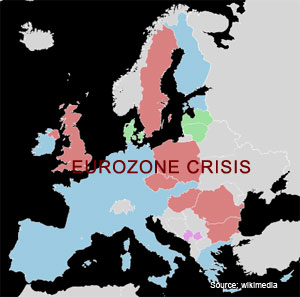 Europe's ongoing debt crisis has been prolonged and still consistent due to the failure to tackle the region's fundamental structural problems, South Korea's finance minister said Friday.
"If we can call the 2008 global financial crisis a one-time thunderstorm, then the current crisis is like a seemingly incessant rainy season we are being encountered now," Strategy and Finance Minister Bahk Jae-wan told foreign correspondents in Seoul.
European leaders had agreed on some short-term measures to be taken to handle the region's crisis, but the market condition states that these measures are not sufficient enough due to lack of detailed action plans and schedule to address the eurozone's structural problems, Xinhua quoted Bahk as saying.
The minister appealed the leaders to find out some concrete and specific measures and time table to overcome the eurozone's fundamental structural faults, saying that without the suggestion, market anxiety will continue resulting in the delay of global recovery.
To fight the prolonged crisis, South Korea has planned to increase public funds and investment by 4 trillion won ($3.51 billion) in the second half of this year, while maximizing fiscal expenditure within limits, Bahk said.
-With inputs from IANS
LATEST IMAGES

MORE...
Social bookmark this page
Post comments: