Hollywood Friday Release: The Intouchables Movie Review
New Delhi, Fri, 13 Jul 2012
NI Wire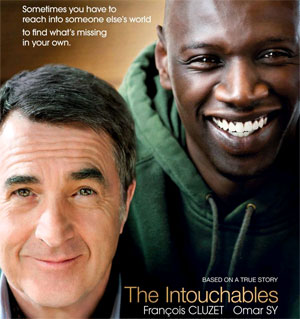 Directed by: Olivier Nakache, Eric Toledano
Produced by: Nicolas Duval-Adassovsky, Laurent Zeitoun, Yann Zenou
Harvey Weinstein
Written by: Olivier Nakache, Eric Toledano
Cast of The Intouchables: Francois Cluzet (Philippe), Omar Sy (Driss)
"If you have a taste for real story and believe in friendship then you wouldn't want to miss Intouchables. It is the second most successful French film of all time."
The Intouchables movie Review:
Philippe: is a millionaire and suffers from tetraplegic (paralysis caused by illness).
Driss is unemployed and poor and is hired as Philippe live-in carer.
The film is about friendship between a rich and wealthy person and poor one.
It starts with the scene where Driss is taking Phillipe on a long drive in Maserati and is being chased by police, they somehow escapes them.
Then story goes in the flashback. Philippe is looking for a caretaker but finds no one perfect. Driss comes to interview but does not care for selection. He is there only to get a signature so that he can get his welfare benefits.
However he gets hired and on learning about all the problem Philippe faces in day-to-day life he decides to become his carer. Both come across their different syle of living. Driss helps Philippe in all good and bad even sets him up on a date with Eleonore whom Philippe likes but is afraid of rejection. He doesn't turn up on the date.
Driss on the other hand learns modern art and opera.
On learning about the family of Philippe advices Driss to get a new job so that he can support them better. He then looks for other care taker but doesn't find a better one. His health sinks and Driss is called.
Back to present state, Driss and continues their long drive. Driss bring him to a hotel where he suddenly leaves him. Why? Go watch The Intouchables.