Upgraded Android 4.0 Aakash 2 tablet will release in August, priced at Rs. 2,263
New Delhi, Thu, 28 Jun 2012
NI Wire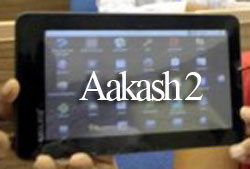 A much more advanced and upgraded version of world's cheapest tablet, Aakash has been developed and is ready to be released in India. Aakash 2 will be updated with the latest Android 4.0 Ice Cream Sandwich operating system and will start its production in July or August.
Aakash 2 was lauched in IIT Bombay. DataWind is manufacturing it.
Aakash 2 has gone through many upgradations from operating system to processor to touchscreen and improved battery. All have been improved to provide a complete computer like experience.
IT Minister Kapil Sibal said, "Aakash is no longer just a device that only consumes content. Through the efforts of IIT-B, Aakash is now a device that creates content."
There has been delay in the launch of this tablet but IT minister didn't provide an answer to it.
"Unfortunately, there was some delay in taking this project forward for reasons that I don't want to go into now," Mr. Sibal said.
Lets take a look at the features and specifications of upgraded Aakash 2 tablet:
Aakash 2 tablet will operate on Android 4.0 Ice Cream Sandwich. It will generate its power from 800MHz ARM Cortex-A8 processor.
Aakash 2 tablet will be topped with a 7-inch capacitive multi-touchscreen
The Aakash 2 will come with 256MB of RAM and 2GB internal storage.
Aakash 2 tablet will run on Li-ion Polymer 3200 mAH battery that will give the tablet a working time of 3 hours.
Aakash 2 tablet will boast Wi-Fi and GPRS features (with SIM and mobile functionality).
Output ports of Aakash 2 tablet are a micro SD card slot and a USB port. It does not have 3G capability.
LATEST IMAGES

MORE...
Social bookmark this page
Post comments:

kumar vikash shankar
January 7, 2013 at 12:54 PM

pavan
December 31, 2012 at 9:22 PM

T.Rajarao
December 29, 2012 at 5:06 PM

Sameer Ahmad
December 18, 2012 at 11:27 PM

sandip
December 17, 2012 at 1:50 PM

vijay kr sharma
December 14, 2012 at 2:24 PM

rahul
December 11, 2012 at 9:33 PM

Habibur Rahaman
December 9, 2012 at 5:09 PM

Habibur Rahaman
December 9, 2012 at 5:09 PM

sujan bardhan
December 9, 2012 at 4:30 PM

hemant kumar
November 26, 2012 at 9:23 PM

ajay rai
November 24, 2012 at 2:01 PM

anirudh kumar
November 24, 2012 at 10:12 AM

pushpendra Kumar mathuria
November 24, 2012 at 9:11 AM

Chirag Chavada
November 22, 2012 at 10:47 PM

chandra prakash
November 18, 2012 at 8:12 PM

shanu johnson
November 18, 2012 at 2:40 PM

imran
November 17, 2012 at 2:05 PM

priyanka
November 16, 2012 at 9:58 PM

priyanka
November 16, 2012 at 9:58 PM

aslam
November 16, 2012 at 9:24 PM

aslam
November 16, 2012 at 9:24 PM

Naresh
November 16, 2012 at 3:19 PM

Mizba Saher
November 16, 2012 at 1:13 PM

Mizba Saher
November 16, 2012 at 1:11 PM

Mizba Saher
November 16, 2012 at 1:08 PM

Rohit Yadav
November 15, 2012 at 6:21 PM

suresh
November 15, 2012 at 3:51 PM

Jatin sandhu
November 15, 2012 at 1:09 PM

Birendra dash
November 15, 2012 at 12:26 PM

sunoythomas
November 15, 2012 at 12:13 PM

sunoythomas
November 15, 2012 at 12:11 PM

Het kkc
November 15, 2012 at 9:58 AM

garvit
November 14, 2012 at 11:05 PM

kumar zure
November 8, 2012 at 11:27 AM

Deshraj meena
November 5, 2012 at 12:56 PM

venky
November 2, 2012 at 8:27 PM

Raj sekhar
October 28, 2012 at 9:01 PM

purshottam patil
October 19, 2012 at 10:30 AM

somesh jadhav
October 11, 2012 at 6:15 PM

muhammed suhaib pv
October 11, 2012 at 2:33 PM

muhammed suhaib pv
October 11, 2012 at 2:22 PM

muhammed suhaib pv
October 11, 2012 at 2:18 PM

Paras vishnoi
October 11, 2012 at 1:55 PM

Shivam Sharma
September 30, 2012 at 9:32 PM

vaishali taur
September 23, 2012 at 8:09 PM

Mahadeo Katkar
September 14, 2012 at 3:28 PM

ajeet kumar
September 1, 2012 at 12:49 PM

dipen
August 16, 2012 at 11:51 AM

satyaraj purohit
August 15, 2012 at 10:57 PM

Deepak
July 21, 2012 at 5:27 PM

Rahmath
June 28, 2012 at 4:19 PM

Ani
June 28, 2012 at 1:38 PM

jainpranay
June 28, 2012 at 1:25 PM