Breast and Lung Cancer can be detected by Cancer Detecting Breathalyzer
New Delhi, Thu, 14 Jun 2012
NI Wire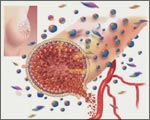 A person breath can now help in detecting the presence of cancer in Breast and Lung through a cancer-detecting Breathalyzer system unveiled at the annual American Society of Clinical Oncology in Chicago.
Scientists at the Georgia Institute of Technology developed Cancer Breathalyzer.
Though this great discovery is still awaiting clinical trials but once approved this can be a life savor especially in underdeveloped countries and remote areas of the world where people die having no knowledge of cancer.
This discovery will read the early signs of breast and lung cancer and hence proper cure can be provided to the patient. And it is less expensive as well.
The process provides an alternative method to current expensive CAT scans and mammograms to detect cancer.
How it works:
Patient has to blow into a tube then the breath is captured in a specialized storage container. (Proper refrigeration can keep the breath fresh for up to six weeks)
Chemical sensors are applied to the sample in a lab to detect the compounds that has cancerous cells.
An estimation by National Cancer Institute of U.S. says in the year 2012 226,870 women will suffer breast cancer and 39,510 of them would die. Also 116,470 men and 109,690 women will suffer from lung and bronchus cancer and 160,340 people will die.
LATEST IMAGES

MORE...
Social bookmark this page
Post comments: