All round development of Delhi is first priority, newly elected Mayors
New Delhi, Thu, 03 May 2012
NI Wire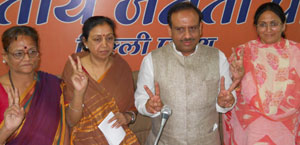 BJP has said that the victory of the Party Mayors in all the three Corporations has paved the way for uniform development of Delhi. The priority of the Party is that the capital may have sufficient number of public toilets, parking, sanitation facilities, high standard and modern primary education, computerized education system etc. so that Delhi may look like a capital of a developed country.
State BJP chief Vijender Gupta said that all the three Mayors should give highest priority to the all-round development of Delhi, which is the expectation of BJP. They have demanded the Government that each Councilors should be given fund of one crore rupees in addition to the present fund for the development of the area.
He told that even after 15 months due to lax attitude and red-tapism in Delhi Government, the report of the Fourth Finance Commission has not been published. Only interim report has been published. Due to lax attitude of Delhi Government it seems that one more year will elapse for the final report. Many difficulties are being faced in the way of all-round development of Delhi because the report of the Finance Commission has not been received.
The three Mayors shall submit proposal for constructing public toilets and parking Lots on the PWD roads and around Central Government buildings after consulting the PWD and Central Government. It will help the people in getting the aforesaid facilities near their work place.
He further told that the Delhi Government has not accepted its defeat in the Corporation elections. Hence it has started treating the three Corporations in step-motherly way from the very 1 st day. The Government which gives bail-out package of 500 crore rupees to the power companies earning profit, why that Government is not providing grant to the three Corporations in place of granting loan?
LATEST IMAGES

MORE...
Social bookmark this page
Post comments: