Post Kejriwal expose: Ambani dismisses Kejriwal allegations
New Delhi, Fri, 09 Nov 2012
NI Wire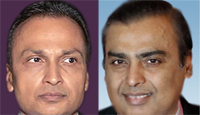 After the allegations put by social activist turned activist and IAC leader Arvind Kejriwal on Ambani brothers and Reliance Industries Limited (RIL) on Friday, the Ambani brothers totally dismissed the allegations of Kejriwal of having account on foreign banks.
The denied all allegations levelled by India Against Corruption (IAC) activist Arvind Kejriwal against the company and its chief Mukesh Ambani.
The Reliance Industries Limited (RIL) chief Mukesh Ambani defended themselves saying "Neither Reliance Industries Limited nor Mukesh Ambani have or had any illegitimate accounts anywhere in the world," an official spokesman said here, shortly after Kejriwal made the allegations earlier in the day.
Upon being asked to a spokesman that RIL had business interests in several other countries with turnover running into thousands of crores of rupees, he said: "As a part of their normal business, these international subsidiaries of RIL deal with several global banks, including HSBC. These accounts are fully compliant with all regulations and are disclosed in their appropriate jurisdictions and in India".
He also said the continued series of baseless allegations being made by Kejriwal and IAC against RIL appear "to be instigated by vested interests".
-With inputs from IANS