Odisha intensifies awareness about unknown diseases that killed 24
New Delhi, Thu, 08 Nov 2012
NI Wire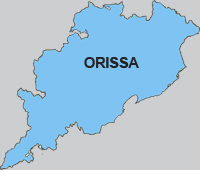 Waking up to the threat of the unknown disease that claimed at least 24 lives, the government of Odisha has intensified health awareness campaign in tribal-populated Malkangiri district, an official said Thursday.
The awareness campaign was launched keeping in view death of the children aged between two and five years in five villages of the district in September and October, chief district medical officer Sashibhushan Panda told IANS.
Eight deaths have been reported from Potrel and Usakapalli villages each, about 25 km from the district headquarters town of Malkangiri, he said.
The children who died of the disease had symptoms like mild fever and swelling of eyes, noses and ears. In addition, they had other symptoms that resemble those of Japanese Encephalitis, a mosquito-borne virus that kills thousands of children in India every year.
According to Panda, a team of experts visited the affected villages a few days ago and collected about 70 samples to identify the reason behind the deaths. The results of these investigations are supposed to come in three-four days, he said.
To control this disease, health awareness campaigns in the affected villages have been intensified. The villages are inhabited mostly by tribals who were not keen to visit nearby health centres and were depending on witch doctors for cure, Panda said.
The government has deployed health officials and mobile health units have been sent to affected areas, he added.
As per last reports came in, 70 children have been treated in the region.
Panda also said that there has been no report of any suspected Japanese Encephalitis case from Potrel and Usakapalli villages respectively since Oct 16 and Nov 1.
Specialists suspects that the children might have died of Japanese Encephalitis, because the affected villages have large number of pigs, the amplifying host of the virus.
--with inputs from IANS