Talaash Movie Review: Truly Deserves your attendance
New Delhi, Fri, 30 Nov 2012
NI Wire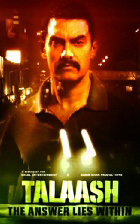 Directed by: Reema Kagti
Produced by: Ritesh Sidhwani, Aamir Khan, Farhan Akhtar
Screenplay by: Reema Kagti, Zoya Akhtar
Story by: Reema Kagti, Zoya Akhtar
Cast of Talaash: Aamir Khan (as Inspector Surjan Singh Shekhawat), Rani Mukherjee (as Shreya), Kareena Kapoor (as Rosie), Nawazuddin Siddiqui (as Tehmur)
"There are very few times in Bollywood that a strong story and the best-of-the-best star cast comes together in a film. Talaash is one such films and with no-negative review, it deserves your attendance in theatre".
Story:
Talaash movie starts with a car accident of a superstar, Armaan Kapoor. His car dives in the sea in Mumbai. For the starter it looks like an open and shut case but is it? Inspector Surjan Singh Shekhawat gets assigned on this case and when he investigates finds that blackmailing may have been involved in it.
Meanwhile Shekhawat past also haunts him and his marriage with Shreya is falling because of it. While he suffers from insomnia, Shreya is also in a lot of grief and is ill because of what happened in the past.
While Shekhawat carries on his quest, he comes in contact with Rosy and Tehmur. Rosie is a prostitute that works in a red light area. Her role slowly turns out mysterious and it looks that may be she and Tehmur both have the last key to the story.
Is it an accident or there is something more in it. How is Rosy and Tehmur involved and will Shekhawat be able to find the truth.
Review:
From the very start of the film, Talaash will make you glue on to your chair and you will not be able to leave it till the very end. There is a twist and turn at every corner still you cannot guess the end.
Reema Kagti's treatment to the film is superb, there is no loop hole whatsoever. Story written by her and Zoya is the USP of the film.
There never was and there never is any doubt about the acting of Aamir. He plays the role of a cop superbly. Rani in her simple role of a grief struck wife is wonderful. Kareena performance is amazing. Nawazuddin in his small role is nice.
Talaash official Trailer 1:
Talaash Official Trailer 2: