Mayor of London meets Sheila, discussed various issues
New Delhi, Tue, 27 Nov 2012
NI Wire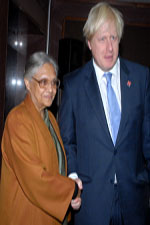 The Mayor of London Boris Johnson accompanied by British High Commissioner to India Sir James Bewan and eight-member delegation called on Delhi Chief Minister Sheila Dikshit to participate in an interactive session with Delhi Government Ministers and officers on various civic issues.
At the onset, Mr. Johnson commended the initiative taken by the city government in improving the environment in the Capital city. He appreciated switch over from diesel to CNG in respect of entire public transport system and commercial vehicles, which resulted in better air quality in the city. He further appreciated the expansion plan of Delhi Metro and existing school education system.
Dikshit gave an overview of the Capital city and apprised them of the existing administrative set up in Delhi. She further stated that Delhi is a large trading Centre and is presently dominated by service industries being non-polluted. Apart from this, she referred to the issues related to the river Yamuna and stated that the city government is working under a plan to install interceptor sewers.
The Chief Minister also stated that the government has to face certain challenges and it has been catering to the large number of patients coming from other states. The city is marching towards a well-developed medical tourism Centre.
Johnson was surprised to learn that the city government has been able to meet all challenges arising due to fast-increasing population and visit of around 5 lakh people per day to the city in connection with their professional commitments.
He also stated that there are large number of higher education institutes and universities in London offering more than 30,000 courses. The scenario of higher education in London is amazing. He offered expertise in the field of higher education, transport, traffic and waste management, housing and private sector financing for infrastructural developmental projects in Delhi.