Son of Sardar: Movie review, story, release date, expectations
New Delhi, Mon, 12 Nov 2012
NI Wire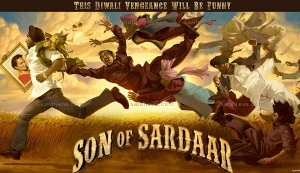 Cast: Ajay Devgn, Sonakshi Sinha, Sanjay Dutt, Juhi Chawla, Mukul Dev and Vindu Dara Singh
Director: Ashwani Dheer
Producer: N.R.Pachisia, Ajay Devgn and Pravin Talreja
Music Director: Sajid Ali , Wajid Ali , Himesh Reshammiya , Sandeep Chowta
Release Date: 13 November 2012
The action comedy film of the year "Son of Sardar" starring Ajay Devgn, Juhi Chawla, Sanjay Dutt and Sonakshi Sinha in the lead roles is all set to release this Diwali on Nov 13 to entertain the audiences through some hilarious comedy. So, read for the moview review of Son of Sardar, pre-review of Son of Sardar, story, release date, expectations of Son of Sardar before the release of the movie.
Review and Story
Directed by Ashwani Dheer, Son of Sardar (SOS) is a remake of a Telugu movie Maryada Ramanna that was based on the 1923 American silent movie Our Hospitality. Son of Sardar is basically a romantic-comedy-action movie based on Rajveer Singh (played by Ajay Devgan) who returns to his paternal village where he meets Jiya (Sonakshi Sinha) and immediately fall in love with her.
Rajveer approaches a feudal lord (Sanjay Dutt) to sell 5-acre property owned by himself but situations turn around and the feudal lord comes to know that the father of Rajveer had killed feudal lord's brother and thus and gets trapped in his house. The story proceeds ahead with struggle of Rajveer to escape from death.
Ajay Devgan has already proved his brilliance in comedy with earlier hits Golmal and Bol Bacchcan and expected to repeat the same. Sonakshi Sinha look fabulous as usual and Sanjay Dutt as feudal lord looks giant.
Overall, the stage is all set for a great comedy film at the end of the year. So, watch out for Son of Sardar for some hilarious time pass.