Vision statement of Kejriwal's political party: Full text
New Delhi, Tue, 02 Oct 2012
NI Wire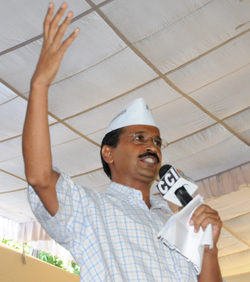 Arvind Kejriwal on Tuesday today made the formal announcement of entering into politics by launching a new political party. Though the name of the party has not been disclosed yet and will be revealed on November 26.
Kejriwal also released a vision document for his newly formed political party that describes the party agenda and its vision.
The vision statement of Kejriwal's party mentions that no MP and MLAs of the party will enjoy the benefits of government accommodation, security and red-right vehicles. The statement proclaims the party is not just a political party but a political revolution. If the party wins in the coming elections, the Lokpall bill will be brought within ten days after elections, says the statement.
The document also states that all the expenditures of the party will be made live on the party's website immediately to maintain transparency. The vision statement of describes the major points in the document that includes:
The power will be in the hands of common people.
Common people will govern the country directly.
Common people will decide the price of the essential commodities.
Good education for all
Good healthcare facilities for all.
Land acquisition with consent of people.
Fair compensation to farmers
Right to reject
Right to recall.
The statement also appeals the youth of the country to join them in the revolution. Apart from that, the vision statement discusses what people can do if anyone is found corrupt in the entire system of the party and says how the party will be different from other political parties of the country.

Here is the full text of the vision document of Arvind Kejriwal's political party: