Is a woman's place still in the kitchen?



WFS, Fri, 21 Nov 2008
Nidhi Modi is just 21 but she already knows the recipe for becoming the perfect bride: Learning how to cook. "You may not know anything in the world but if you can cook even one fancy dish, it'll work like magic with your husband and in-laws," states
Terrorism has no Religion!



NI Wire, Thu, 20 Nov 2008
In India, the Islamic scholars are continuously opposing the terrorism, at the national level. Well known that the world level religious organisation in India, Darul Uloom, Devband an international Islamic university in India issued Fatwa
Is this cultural nationalism or vandalism?



M Shamsur Rabb Khan, Fri, 7 Nov 2008
An ABVP activist went up to the dais and spat on SAR Geelani's face twice, saying 'shame, shame'. Perhaps the young man does not know the meaning of the word shame himself.
"Ladies Only": A Response to Nature's Call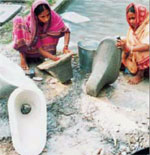 NI Wire, Sat, 25 Oct 2008
Up until five years ago, every monsoon, the little tribal village of Gothangaon, would use up the entire stock of diarrhoea and gastroenteritis medication issued to the Adegaon Panchayat (village council) to which it is linked.
Political speech to suit the purpose



M Shamsur Rabb Khan, Tue, 21 Oct 2008
Very few in India except his staunch apparatchiks in the Sangh Parivar would doubt that the leader of the opposition, L K Advani is a shrewd public speaker, who can rouse rubble and stir movement, and hence create communal polarisation. He speaks as
More Stories