A dream come true
By Ditimoni Gogoi, Sat, 04 Oct 2008
NI Wire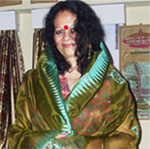 She had a long cherished dream. One morning she was sitting - thinking about the dream and how to fulfill it. At that moment, she received a phone call and God said let there be light and there was light. It was a call from renowned writer Amitav Ghosh who has a great liking for her writings. And over phone he was informing her about an award she had just received. It was the Principal Prince Clause award 2008 which has been conferred to this bold and realistic writer of Assamese literature. Simplicity and deep love for the ordinary folk is the unique facet of her writings which brought her this prestigious honour. This lady is none other than Dr. Indira Goswami, popularly known as Mamoni Raisom Goswami, a writer of repute.
Then she was only eight or nine years old. She had spent most of her early childhood at Amranga Village ( South Kamrup ). Whenever she visited Amranga Satra with her father she saw a man lying under a peepul tree. One day she asked her father about that man and her father replied that that man was a leper and in their village, leprous people were thrown out of the village to keep them at arm's length. Then she asked her father about the treatment of that person and father again replied that there was no hospital in their locality. The condition of the ailing man, alienated from the society, touched and shook her to the core and a dream sprouted in her mind. The dream was to establish a hospital in that region to cope up with the problems faced by the folk. Since then, almost 60 years has passed but she could not find her dream turn into reality. This does not mean that she did not have the resources to start such a project.
In fact, she was born in a wealthy family: her father was Umakanta Goswami, a brilliant academician and a rich person. He was the principal of Cotton College . Moreover, Mamoni Baideo was married to Madhavan Raisom Iyengar who had riches worth crores of rupees which she sold off for minimal cost after the death of her husband. But it needs something different in order to fulfill a cause. She could not use the money or property belongs to her father or husband as there were other siblings as well. They cannot think as she does because they have to look after their own families.
Whatsoever it may be, the prestigious award has brought some hope for fulfilling her dream. She is receiving such a huge amount, almost Rupees seventy lakh which she can use for that noble cause. After receiving the award she is going to visit her Amranga village and soon her dream will turn into reality. She hopes that she would name the hospital after her father or mother. "I may have to tie up with some group to set up my dream hospital in my village, but I am so happy that at last my long cherished dream is going to be fulfilled", She says. She is enthralled with the feeling of great satisfaction as she could do something for the betterment of the underprivileged.
The Prince Clause award is usually given to people who show outstanding performance in the field of culture and development. The most important consideration of the jury is the positive effect of a laureate's work on a wider cultural or social field. The Prince Claus Fund interprets culture in a broad sense to encompass all kinds of artistic and intellectual disciplines, science, media and education. Since 1997 the Prince Claus Awards are presented annually to artistes, thinkers and cultural organizations in Africa, Asia, Latin America and the Caribbean .
Mamoni Baideo has received this award as an outstanding writer who reveals the lived experience of ordinary people; through powerful graphic descriptions and haunting images she shows how central the body is in human affairs, how political, religious and culture systems are codified through the body and how life process, gender, age, poverty and conflict are defined physically.
She will be presented the award on 3 rd December 2008, in Muziekgebouw aan't IJ in Amsterdam .
Although the award is as prestigious as the Nobel Prize and the prize money is 100,000 Euro (more than worth Rs.70 lakh,) more than the Prize money of the Booker Prize, not much have been said or written about this award. As a result, we are not aware of her this great achievement which she considers to be the second miracle of her life. The first one was the sudden change of her mindset that moved her to stay at Brindaban, while at first she was reluctant to stay there.
Mamoni Baideo's writings are a sensible picture of the miseries suffered by the downtrodden and the outcaste of the society. Be it is her novel or a short story, she always picks up the subject from the ordinary folk. All her novels and short stories are a bold and true picture of these people. Her subjects included Brahmin widows, share-croppers, poor peasants, riot victims, despondent youths, forsaken lovers and helpless animals.
Moreover, her characters are not confined to a particular geographical boundary. They not only belong to Assam . In her novel The Stream of Chenab (Chenabor Srut ), which launched her as a novelist, she drew the subjects from labourers working for a construction company where they were raising a bridge near the river Chenab . In Blue Necked Braja (Nilakanthi Braja) is a story of the Brahman widows flight their plight at Brindaban. The Rusted Sword or Mamore Dhora Taruwal is a story of the labour union and a labour strike and set in the backdrop of Uttar Pradesh while the story of her The Moth Eaten Howdah of a Tusker (Datal Hatir Uwe Khua Howdah of Tusker) is revolves around the lives of three Brahman widows in the family of the Sattra Adhikar.
The varied subjects distinguish her from others. This is a unique feature of her writings and it makes her writings popular all over India and abroad as well. Most of her writings are already translated to all major Indian languages. Her Datal Hatir Uwe Khua Howdah (The Moth Eaten Howdahof a Tusker) has also been translated to all the major Indian languages and remarkable that this is one of her works to win wide appreciation in Pakistan.
Mamoni Raisom Goswami was born and brought up in a very conservative family. When she started going school, she was escorted by three servants - one of them preceded her informing all others that a 'Gossain' girl is coming, so they should clear out the road (it is believed our society that Gossains are a higher class and they should not be touched by the lower caste people). The other servants carried her mattresses to sit in the school. However, her mindset was not like that. This conformist belief could not shape her mind. She never made any distinction in making friends nor did her mother say her to do so. But her aunts repeatedly warned her against making such friends. She had nurtured her feelings for the downtrodden since she was a young child. And, she has now reaping the fruits of the feelings she nurtured for the downtrodden. "If it was not that conservative, I could go to the leprous man and could do something for him..." Mamoni baideo says contritely.
This Jnanpith Awardee has 25 books and hundreds of short stories to her galore. List of honour and awards is studded with Sahitya Akademi , Assam Sahitya Sabha award, Bharat Nirman Award, Katha National Award for literature, Kamal Kumari Foundation Award, The International Tulsi Award from Florida International University , Padmashri Award and many others.
After the announcement of the award, noted litterateur of Assam , Homen Borgohain asked her in an interview, "Have all your dreams fulfilled?" To which she replied positively. However, she never felt all her dreams fulfilled before receiving this award.
Mamoni Baideo has expressed great satisfaction over the translation works of her creations. The translations have given her a high. Through these pieces of work only the people outside could get the taste of her works. Even Amitav Ghosh had gotten a chance to read her books through the translation works. He was one of those people who referred Mamoni Baideo's name for this laurel.
The Principal Prince Claus award has been awarded to Mamoni Baideo while the additional awards worth 25000 Euro have been given to ten more persons belong to different countries of Africa, Asia, Latin America and the Caribbean. They are - Li Xianting, a resident of Jilin Province, China is honoured for his lifetime dedication to the development of contemporary art in China, for his rigorous analytical thought and for championing individuality and freedom of spirit.
Venerable Purevbat, a resident of Tov Aimag, Mongolia is honoured with this award for the rigorous authenticity of his methods and techniques, for re-establishing an important un-modern aesthetic practice, for his dedication in fostering future generation and for nurturing local identity through artistic tradition and culture.
Ousmane Sow, a resident of Dakar, Senegal is honoured for his powerful sculptures of the human body, for new perspectives on the body in Africa that challenge the international world of figurative art and for his positive influence on young generation of African artists.
Dayanita Singh from Delhi awarded for the outstanding quality of her images, for providing a complex and well-articulated view of contemporary India, and for introducing a new aesthetic into Indian Photography.
Elia Suleiman of Nazareth, Palestine is awarded for the creative structure, innovative vocabulary and superb quality of his films, for his use of humour in examining universal humanitarian issues, and for his commitment to peace and justice for Palestine.
James Irha Uchechukwu of Enugu Nigeria is awarded for the outstanding quality of her artwork, for re-introducing performance art in the culture of the Caribbean and Latin America and for her inspirational role in Cuban arts.
Ma Ke a resident of Changchun, is honoured for the superb craftsmanship and aesthetic quality of her work, for highlighting the complex interactions of clothing, culture and the body, and for promoting socially, culturally and environmentally sensitive design and production.
Jeanguy Saintus of Port au prince, Haiti is awarded for his exciting contemporary work that connects the spiritual and the physical and honours the human body, for expanding the possibilities of dance and fostering young talent and for inspiring pride in the strength, beauty and richness of Haitian identity.
Carlos Henriquez Consalvi of EI Salvador Venezuela is awarded for his outstanding work as a journalist, for creating spaces for freedom, and for his commitment to the promotion of memory and its active role in the reconstruction of Salvadoran Society.
By Ditimoni Gogoi
The author is a Guwahati based independent journalist writes for various publications. She can be contacted at ditimonigogoi@gmail.com