Polls in states disappoints congress, breather for BJP
New Delhi, Tue, 06 Mar 2012
NI Wire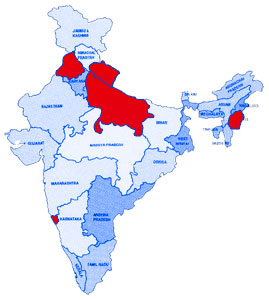 The results of polls in state are not encouraging for the congress. Except state of Manipur where it has managed to remain in power, it seems that this national party is fading its charm. In UP election where stakes were high for the Congress generally secretary Rahul Gandhi the party's performance is not up to expectation. Here SP has got majority and all set to form government. Congress and its allies have finished fourth.
In Punjab where congress is banking on anti-incumbency factor has to face defeat and has to remain content with 46 seats only while SAD-BJP government has managed remain in power with 68 seats. In Uttarakhand congress is fighting neck in neck with BJP.
In the state of Goa results are against congress and BJP has come to power with 24 seats.
The only good news for congress comes from Manipur where congress has won 42 seats and will remain in power.
Election Results 2012
UTTAR PRADESH
PARTY

WINS

SP

224

BSP

80

BJP

47

CONG+

38

OTH

14

MAJ:

202

403
PUNJAB
| | |
| --- | --- |
| PARTY | WINS |
| SAD+ | 68 |
| CONG | 46 |
| PPP | 0 |
| OTH | 3 |
| MAJ: 59 | 117 |
UTTARAKHAND
| | |
| --- | --- |
| PARTY | WINS |
| CONG | 32 |
| BJP | 31 |
| BSP | 3 |
| OTH | 4 |
| MAJ: 36 | 70 |
MANIPUR
| | |
| --- | --- |
| PARTY | WINS |
| CONG | 42 |
| PDF | 1 |
| NPF | 4 |
| TMC | 7 |
| OTH | 6 |
| MAJ: 31 | 60 |
GOA
| | |
| --- | --- |
| PARTY | WINS |
| BJP+ | 24 |
| CONG+ | 9 |
| UGDP+ | 2 |
| OTH | 5 |
| MAJ: 21 | 40 |