Illegal drug trials: Supreme Court issues notice to government
New Delhi/Bangalore, Tue, 07 Feb 2012
NI Wire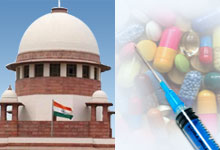 The Supreme Court of India while hearing a petition on illegally conducting clinical trials of untested drugs on human being across the country, issued a notice to Central Government and Medical Council of India (MCI) and asked explanation regarding a Public Interest Litigation filled by Swasthya Adhikar Manch, a Non Governmental Organisation (NGO).
The NGO has filled a PIL in the apex court for asking to probe the case of into illegal drug trials by several multinational pharmaceutical companies across the country.
The Supreme Court has slammed the Health Ministry and asked the government's move on this case.
Sanjay Parikh, advocate of the NGO, said thousands of people continue to bear the adverse effects of this unlawful practice.
Indicating the loophole in the laws, petitioner requested the court to make suitable amendments and take stern action against the pharma companies violating the rules.
"They actually indulge into this kind of illegal trials which takes place where the inform consent is violated. It is done on poor people, pregnant woman, mentally retarded people, and children. We have provided, the data which is authentic, which has come from debates of Vidhan Sabha and Rajya Sabha that thousands of people have died and thousands are seriously affected because of these trials," added Parikh.
Meanwhile, Health Minister Ghulam Nabi Azad expressed his concern on the matter saying certain rules and regulations have to be followed while conducting clinical trials.
"No drug can be put to market unless you have the clinical trial but only thing is that all precautions have to be taken. There is a laid down procedures for a clinical trial for testing medicine on humans. So, it is sometimes the companies do not go by the laid down procedures when it causes great harm to the person or persons on which this test is carried on," Azad said.
It has been found that profit is the main reason for such illegal clinical tests as doctors are given plenty of money for conducting these trials.
Previously, a large number of medical practitioners in Madhya Pradesh were penalized for conducting these tests that are considered unethical in medical practices.
These trials have caused several deaths, and mental and physical deformity to the patients across the country.
--With inputs from ANI