Diabetes needs holistic treatment: Anand Srivastava
New Delhi, Sun, 12 Feb 2012
NI Wire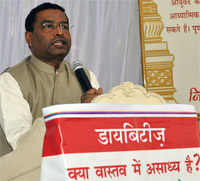 Diabetes Mellitus, a sweeten epidemic is absolutely curable in Ayurveda, as it needs holistic medicines that can eradicate the cause of the diseases and can heal the body internally, said Anand Srivastava, the Chairman of Maharshi Ayurveda Hospital, Pitampura, New Delhi on Sunday while speaking in a seminar organised at hospital premier.
Addressing to patients in a seminar "the possibilities of Diabetes holistic treatment in Ayurveda" Srivastava said, 'In contrast to Allopathic Medicine System, where Diabetes is only managed not cured, an absolute treatment is available in Ayurvedic medicine system. Only it needs to make aware about the people.'
Informing to patients, visitors and guests, Vishal Trivedi, Ayurvedic Medical Practitioner, Moolchand Hospital said, 'If the patient follows the rule and regulation of nature strictly and intake simple and non-spicy foods, he/she can prevent from various diseases not only from Diabetes.'
Ayurveda is a complete healing system as it narrates the way of healthy living life and Ayurveda believes that preventing any disease is better than curing it, he added.
Vaidya Balendu Shekhar Dwivedi, Panchkarma Specialist in his speech stressed the need of performing Panchkarma (five detoxification functions) to everyone, even an healthy person to prevent from diebetres, as Diabetes in a metabolic disorder and it produces when human body vitiates from any doshas (toxins).
Dietician Dr. Asha Mahendru informed the patients about the proper diets of Diabetic patients while Yog Guru performed and informed some Asanas of Yoga that can heal the disease.