India-France Sign MoU to establish a Marine Biology Institute
Paris, Sun, 12 Apr 2015
NI Wire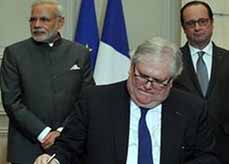 A Memorandum of Understanding (MOU) was signed in the presence of Prime Ministers of India and France during the visit Shri Narendra Modi to France, for establishing an Institute for frontier Marine Science & Technology Research in the five years.
Under the MOU India's Department of Biotechnology would join hands with the Université Pierre Et Marie Curie (UPMC) and the Centre National de la Recherche Scientifique (France's National Centre for Scientific Research- CNRS) to set up a the National Institute of Marine Biology and Biotechnology in India.
As a part of this France would contribute expertise in developing high standard marine stations for collaborative research programmes, train manpower, facilitate setting up efficient research infrastructure, facilities & technologies. Indian would bring interest & proficiency in cell & molecular biology & biotechnology. It will also provide Indian researchers access to the French marine stations with extraordinary technical capabilities.
The Institute will carry out fundamental science research with a multidisciplinary approach and will collaboratively address the most important topics in marine biology and marine biotechnology.
The charting of our Island diversity will soon be accomplished in collaboration with ISRO and the deep sea exploration will be done in collaboration with the Earth Sciences Ministry.
This collaboration is expected to address this challenge by upgrading human resources, boosting capacity and sophisticated technology needed to explore high-speed and high-quality Ocean and island- biology at the highest international level.