Need to promote agri-entrepreneurship in medicinal plant cultivation: Dr. Harshvardhan
Purara, Uttarakhand, Sun, 12 Apr 2015
NI Wire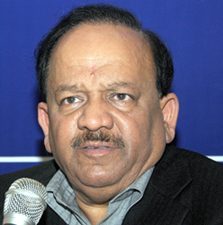 Union Minister Dr. Harsh Vardhan urged the Scientists to Exploit Wide Gene-Pool Available in Nature for Developing Superior Varieties of Medicinal and Aromatic Plants Union Minister for Science and Technology and Earth Sciences Dr Harsh Vardhan, has said that India has the potential of becoming the world's largest supplier of Medicinal and Aromatic Plants (MAP) given her rich tradition in this field. He said rapid strides are now underway in research and development of credible products.
While on a visit to the Central Institute of Medicinal and Aromatic Plants (CIMAP) in Purara (Uttarakhand) last evening, Dr Harsh Vardhan emphasized the need to promote agri-entrepreneurship in medicinal and aromatic plant cultivation because the demand for these herbs, roots, leaves, etc. is growing globally.
"India is already a big player in the international market for medicinal and aromatic plants. The government is giving technological support through enhanced R&D. The future is very bright," he said.
The Minister said that the growing global popularity of alternative and traditional medicine, backed up by a surge in the number of practitioners, has created a huge market for the MAP sector. The domestic AYUSH market is estimated to have volumes of Rs 500 crore and exports are in the region of Rs 200 crore.
The improved varieties of medicinal and aromatic plants developed by CSIR-CIMAP occupy an estimated area of 300,000 hectares producing different essential oils and medicinal herbs valued at about Rs 2500 crores annually and creating employment opportunities to the tune of about 6 crores man days every year.
CIMAP is part of the Council of Scientific and Industrial Research (CSIR). It was founded as the Central Indian Medicinal Plants Organisation (CIMPO) in 1959. It has a campus spread over 51 acres which houses various laboratories, plant conservatories and an experimental farm.