MTNL Launches new plans on Good Governance Day
New Delhi, Thu, 25 Dec 2014
NI Wire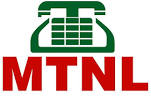 On the occasion of 'Good Governance' Day, MTNL has launch three plans for the MTNL customers. There plans are expected to deliver better services to the MTNL customers. This launch will bring 3 new exciting plans for the MTNL customers.
The new changes/features are Make Jodi, Waiver of one month Rent and MTNL App.
On the occasion of 'Good Governance' Day, Minister of Communications & Information Technology Shri Ravi Shankar Prasad has launched three new schemes and services for the customers of MTNL. These schemes and services of MTNL are expected to deliver better services to its customers and will synergize with the initiatives being taken to achieve "Good Governance". The salient features of these schemes / services are:
1. Make Jodi:
In this plan, MTNL Prepaid Mobile Subscriber can make Jodi (Pair) with another MTNL mobile or land line number. The calls to the paired number will be charged @ 20 paise per minute whereas the calls to other local network and STD calls will be charged @ 40 paise per minute and 50 paise per minute respectively. This tariff plan is very competitive. Apart from this package, during the first month of activation, 100 minutes local calls on MTNL network and 200 MB data download will be free. However, the paired number should be from MTNL and the same city.
2. Waiver of one month Rent:
MTNL in its endeavor to provide affordable and customer friendly services, has launched a scheme in which the subscriber who books Broadband connection or Combo Plan (Landline +Broadband) between Good Governance Day ( 25.12.2014) and 66th Republic Day (26.01.2015) will get waiver for fixed charges i.e. one month Rental only upto Rs.999/-. The moto of this scheme is also to expand broadband internet services to the customers of both Delhi and Mumbai and to contribute in Digital India and Good Governance initiatives of Govt.
3. MTNL App:
By going with Government's initiative to bring 'Good Governance', MTNL launched an application. By installing this application in his/her Android Mobile Phone, one can use certain MTNL services without visiting any of its offices. Through this application, subscriber can book new connection, make complaint for faulty telecom services, can view telephone bills and make payment and get e-receipt for payments made. Subscriber can also get registered for getting telephone bills on e-mail. 'MTNL Self Care' application for MTNL Mumbai and 'My MTNL' application for MTNL Delhi can be downloaded from Google Play Store.
Source: PIB