E- commerce is adversely affecting the offline market: CAIT
New Delhi, Sun, 12 Oct 2014
NI Wire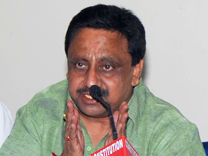 CAIT to New Delhi: Being deeply concerned over the much low prices? of large number of commodities? ?on ?online retail? portals? comparing the offline market, the Confederation of All India Traders (CAIT) has decided to convene a ?meeting? with senior officials of different prominent? brand? companies of various segments whose products are being sold on "both online and offline market."
This is a serious issue which is adversely affecting the offline market to a great extent and therefore we have decided to hold direct talks with all such companies? on this complex issue? to understand as to how the online retailers are able to sell at a much lower price of the products of same brands"-said Mr. Praveen Khandelwal, Secretary General, Confederation of All India Traders (CAIT) which is spearheading the movement on current fiasco over e commerce.
?Gauging the seriousness of the issue which has shocked the offline market all over the Country,??t?he CAIT has convened a meeting of its National Governing Council on Monday at New Delhi? at NDMC Convention Centre? to take stock of the current situation and to decide future course of action on this controversial issue. The meeting shall be attended by prominent trade leaders of different states.
?CAIT National President Mr. B.C.Bhartia informed that companies of segments like Electronics, Mobile and Mobile Accessories, Apparels, Footwear, Travel Luggage, Cosmetics, Kitchen Appliances, Home Furnishings, Consumer durables, Watches, Spectacles, Computers, Toys, Sports Goods etc. are being invited for the ?meeting? which includes LG, Samsung, Sony, Phillips, Reebok, Puma, Park Avenue, Apple,? HP,Titan, Casio, Tommy, Guess,? etc. About 50 companies have been invited.? The meeting is likely to take place after Diwali at New Delhi.? A White Paper will be prepared from the discussion of the Conference which shall be submitted to Union Commerce Minister and other Authorities.? There is an estimated loss of business in various segments from 20% to 35% in various segments in last six months and if the present trend continues,it is apprehended that the offline market will suffer a loss of about 50% business by the end of Diwali festival.?